Hidden Gem by the Sea - Walk to Beach
Hidden Gem by the Sea - Walk to Beach
Emerald Shores Vacation Rental House in Destin, FL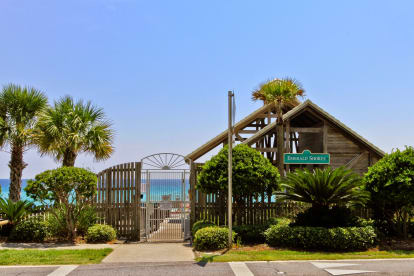 ---

My ECBYO listing
Description
"HIDDEN GEM BY THE SEA", formerly known as "Eleuthera" is a cozy beach villa in gated Emerald Shores community of upscale caribbean styled homes in a lush tropical setting. A coded private beach pavillion for owners and guests with cabana, restrooms, fresh water showers, beach chairs/umbrella service. This Home can be reserved with our other property "SELAH BY THE SEA" if you need space for additional family members or friends.  Both homes are within feet of each other.

Home is only a 3-4 minute stroll to the soft sugar white sand beach and crystal clear water or hop on the private free tram/shuttle! Large wagon for beach gear transporting available. Additional Emerald Shores amenities include two heated pools, a tennis court, shuffle board and basketball.

Armband Policy is in effect from 3/1/2022 - 10/31/2022  30.00 per home to be paid cash or credit card at the private beach pavilion.

Vacationing here is an annual, sometimes two to three times a year event for many families and friends! You should come too! Once you come, you'll want to come again and again! Some people make this their home away from home after just one visit! Come see why!

We appreciate you taking the time to view our home. Please call  us at 713-469-2100 or e-mail us if you have questions. If you choose to stay with us, we are confident you will love our home and have a great time here at the beach! 

PS:  To read more reviews on both our properties and sign up for our newsletter please go to our website www.selahshores.com
Availability
Rates
| From/To | Nightly | Weekend | Weekly | Monthly | Min Nights |
| --- | --- | --- | --- | --- | --- |
Pet Fee - 1 pet :
$150.00
(Optional)
Pet Fee - 2 pets :
$250.00
(Optional)
For rates please click on book now to take you to the website and a quote will be generated
From Memorial day weekend - Mid August we are a 7 night minimum stay Sat - Sat rental
Armband policy for private beach access and pools  in effect from March - October 30.00 per home to be paid to HOA at beach pavilion (cash or credit card) 
We are pet friendly  2 pets max- pets 30 lbs and under non shed.low shed, no puppies, cats or aggressive breeds.  Non refundable pet fee 150.00 for 1 pet  2 pets 250.00 
Absolutely No smoking or vaping in the home. 
Reviews
We really enjoyed our vacation here!

"I stayed here with 7 of my friends and we all LOVED the house. It was clean, well stocked, and gave a nice beach feel. It had an outdoor area, a nice living room with a tv for relaxing, and a big kitchen where we were able to cook most our meals. We spent a good deal of our time in the heated pool since the ocean was a bit chilly, but the beach is just a short walk away. The neighborhood felt very safe, friendly, and relaxed. There's a Dollar General in walking distance, and anything else you need is just a short drive.Maria was a great host as well. We really appreciated how responsive, kind, and helpful she was. We really enjoyed our vacation here."
03/04/2017
Hidden Gem was incredible

Maria's "hidden gem" was incredible. We found everything we need at her house. The place in person was beyond the pictures. Everything was clean when we entered, and whenever I needed to communicate with Maria, she responded back quickly. My friends and I wanted to avoid the spring breakers and I couldn't have asked for a better place to stay in Destin. We weren't far from the beach, and it was exactly what we needed! I recommend this place to anyone who is looking for a relaxed, calm and fun place to stay!
03/27/2017
Perfect House and Great Location

Our experience was amazing! Perfect house on a great location and a short walk to the beach.
03/13/2017
We had the best time!

We spent 5 days here and we had the best time!!! Close walk to the beach and a quick drive to great restaurants. The house is more private than I thought it would be from the pictures. I would recommend it to a friend and stay here again!
04/20/2017
We had a wonderful Stay!

We had a wonderful stay! The house was very clean and well appointed with necessary amenities. The house was perfect for my family of four. The walk to the beach was only a few minutes and the pool was just steps away. Our host, Maria, was fantastic. I definitely recommend this place.
05/13/2017
Amazing!

This place is AMAZING! Quiet neighborhood, close to the beach, and right in the middle of everything!! Beautiful and spacious villa!
05/22/2017
House Was Perfect

The house was perfect and we were pleasantly surprised at the location and convenience to restaurants and the beach. We would highly recommend this house and this neighborhood to our friends. We had a great vacation in Destin!
06/03/2017
We enjoyed our stay!

We enjoyed our stay! The community was very quiet and the atmosphere was homey. The house is tucked into a corner of a cul-de-sac and is very shaded. We walked to the beach, however, there is a driver and a golf cart that circles and will pick you up if you want a ride (you will still walk some because the cart doesn't go all the way to the beach). We walked to Captian Dave's and Pompano Joes for dinner. We also walked to Dollar General for more sun screen. Pompano Joes was over half a mile and Captain Dave's and Dollar General were about a quarter mile. We brought our badminton set and tennis rackets from home to use on the tennis court that is available. This resulted in an epic family tournament! We didn't realize that Maria had an outside storage unit with beach chairs and umbrellas until the last day. We had already gone to the store to purchase those items, so check the shed outside first! The private beach was very nice and clean with bathrooms and a snack area. Also located there was kayak and paddleboard rentals along with beach chair and umbrella rentals. The private beach allows personal umbrellas and tents but you need to place them behind the rental ones. This was not a problem and did not seem inconvenient. At the pavilion, there are steps (about 10) down to the beach with no ramp. The beach warning flag that was the closest was to the east. The ocean conditions flag (yellow for us) was very visible, however, the smaller one that was attached to it (placed under) was not very visible so please look closely to determine if there is another smaller flag under the larger one. Maria has posted on the refrigerator a flag guide and it came in handy during our stay. The home itself is nicely furnished and very comfortable. We had 5 adults total and we did not feel crowded as there was plenty of space for everyone. We did not use the pools that were available as it was just too easy to get to the beach. However, the pool located in the center of the community and across the cul-de-sac from the house was the largest and the busiest (busiest but not busy- no more than 15 people max were ever there). We did walk a lot (our choice) but other families did bring bikes or rented bikes locally and were using those to get around the community and the neighborhood by the beach so that is an option. There is a nice wide bicycle/sidewalk trail along the beach that we used to get to the restaurants. Overall our vacation was great. We relaxed, we laughed, and we had a great time.
07/08/2017
Paradise

That's the right interpretation of the word Paradise. What a lovely house in a great neighborhood where everything is available and up to your expectations. My family and I enjoyed every single moment of that great time that we had there.
08/22/2017
We absolutely Loved staying at the Hidden Gem!


We absolutely loved staying at the Hidden Gem. It was the perfect size for my family of 6. It's close walk to the beach and there's a wagon on the patio to haul your towels and sandcastle making materials to and from the beach. It's very close to the community swimming pool. Maria was super awesome communicating with me every step of the way. We will definitely return!
08/28/2017
Amazing Time!

Our family had an amazing time staying at "Hidden Gem." Maria's home is in a safe and well kept community, and it's central to everything in Destin (beaches, restaurants, shopping, activities). The house was stocked with all the essentials and more (beach chairs and umbrellas, a wagon to take everything to the beach, a cooler, a grill). Having access to the private community shelter on the beach was also a nice plus. To top it all off, Maria communicated extremely well throguhout the process. We will definitely be back in the future.
10/14/2017
Vibrant Community and Private beach access fantastic!

We decided to take our two girls on a beach vacation for the first time. I am so happy that we made the decision to book the Hidden Gem by the Sea. Plenty of room to spread out with our kids, very clean, vibrant community, and the private beach access is fantastic! Will be booking again in the future.
03/04/2018
Very convenient to beach

The home was surprisingly large, and very convenient to the beach and other attractions in Destin. We would recommend this home for other families traveling to the area.
03/11/2018
Location absolutely perfect

This location is absolutely perfect. Walking distance to beach and all pools. Awesome dollar general right next door for all needs! Very safe and secluded, yet very close to restaurants and shops!
03/16/2018
Perfect getaway to celebrate 25th Anniversary!

Hidden gem was the perfect getaway for my husband and I to celebrate our 25th anniversary. It's private yet still close to everything you could need. You feel very at home and cozy. I love the decor and all of the special touches. This home is EXCEPTIONALLY clean!! We will definitely be back!! Maria, the owner, was quick at responding with any an all questions I had.
03/23/2018
We loved staying here

We loved staying here. The pictures matched the house, and it was great to have outdoor space for the kids to run around. Maria was very communicative and answered all our questions quickly. The neighborhood the house is in is family-friendly and offers a nice break from the busy-ness of the beach and Destin itself. We hope to come back the next time we go to Destin!
03/26/2018
Perfect long weekend!

Our quick stay for a long weekend was perfect! Short walk to the beach, nearby walkable restaurants, and felt very safe with security code access
04/12/2018
Accommodations and location awesome

The accommodations were great and the location is awesome. Just a short walk to the beach with a private gated entrance. Having beach chairs and an umbrella available for us to use at the beach is a really nice touch so guests only have to bring their own towels and lotion, etc. Overall it was a great, relaxing experience. It was just what we were hoping for!
05/03/2018
Community so friendly
Maria was fantastic. Everything was adorable and well planned out. Lots of referrals while there, and the community is so friendly!
05/07/2018
Wonderful!

This place is so lovely. Better than the photos. It was so clean. Comfortable. Wonderful! Loved everything about it. I truly recommend it!
05/16/2018
A true "Hidden Gem"
Maria was great to work with, and the house was well represented. Hidden Gem was a great stay for our family of four. Close to great restaurants, a secure well maintained community, and right next to the most beautiful beaches in Florida! Thanks again Maria - we'll be back!
06/09/2018
Amazing Time - home even nicer in person

My family and I stayed here for a week and had an amazing time. Maria was a considerate host who reached out to me by phone ahead of time just to make sure we were all set to stay at the house. When we arrived the house was spotless. The pictures made it look nice, but it was even nicer in person. It's spacious with a large fully equipped kitchen that we cooked several meals in. We also grilled out steaks and hamburgers on the outdoor grill. The beach is just 5-7 minutes away by foot. The house comes with a wagon that you can use to take your beach supplies with you. There are people driving golf carts around during the day to give you a ride if you want one. The neighborhood is beautifully maintained and felt safe even at night. There's a large community pool right next to the house but we didn't use it during our stay. The beach itself is beautiful with white sand and clear water. It was busy, but we never had an issue finding a good spot all week, and the water itself was never crowded. The private pavilion was particularly convenient. The Dollar General next door is in walking distance (4-5 minutes away by foot), which makes it extremely convenient to pick up anything you might have forgotten or need to refresh. We made at least two trips. In short, we had no issues with our stay, the house was exactly as described, and I highly recommend this spot for a family beach vacation."
07/07/2018
Super cozy and lovely!

Maria the host is a wonderful!! Not only did she personally reach out to introduce herself but also to give us tips about our visit. Home was super cozy and lovely! I felt as if I was home and loved that it came equipped with just about anything you can think of for a trip down to the beach. We didn't have any issues with anything in the home and the neighborhood was quiet so that's a plus! We will be back!
08/17/2018
wonderful in every way

This was the nicest, cleanest, sweetest place we have ever stayed! It was wonderful in every way !
08/26/2018
All the comfort's of home

"Maria's home was just as described. It is about a 5 minute walk to the beach and Maria provides you a large wagon to haul all your things. The home was very clean and had all the comforts of home. Our family of 4 stayed here comfortably and we would definitely recommend Maria's home to other families."
10/04/2018
Hidden Gem by the Sea is just that!

Hidden Gem by the Sea is just that! The location is perfectly centered between restaurants, fun activities for the family, and the beach! The two pools are a nice option to have. The house is equipped with everything you could need for the your stay."
10/18/2018
Awesome place to stay!

Look here guys.... I reeeeaaaaalllly don't wanna share my experience because the selfish side of me wants to keep this HIDDEN GEM all to myself for future use, BUT I'll be nice and share... The home is incredible and the hosts are so thoughtful with all the amenities they offer. They even had a wagon and beach tools to take with you to the beach (umbrellas-2, boogie boards, sand buckets, chairs). The grill outside is easy to use and clean, and the private area outside, allows for an interactive experience while grilling. The home is really tucked away in a small culdesac, but it's still right in the mix to where you can enjoy a book outside on the porch, or literally walk right across the street to the pool. The community is gated, so it limits the access to cars coming through. The beach is right down the street just as advertised (maybe a 5-7 minute walk). The hosts were available to answer questions and offer suggestions MONTHS before our trip and responded quickly during our trip. So if you pass this place up, you're foolish, but that is totally fine with me because that means more available dates for me; and I definitely plan my next trip to Destin to be right there at the HIDDEN GEM! AWESOME PLACE TO STAY!!!
08/31/2018
Our stay was perfect

From the drive into the community, until we had to leave, we were constantly amazed with how perfect our stay was. The community was quaint and picturesque, and we felt at home the moment we walked through the door at Hidden Gem. It was well equipped, sparkling clean, and convenient to everything. We golfed, soaked up the sun on the private beach, went on an amazing dinner/dancing cruise, and spent the day at the spa. My husband and I reconnected! This is the perfect place to stay!!
10/22/2018
Great Family Get Away
My family had an amazing experience staying here over Memorial Day Weekend. We hope we can back down here as soon as possible!
05/31/2019
Vacation at Hidden Gem
Our time at Hidden Gem was truly a blessing! Maria our host, was very gracious and answered all of our questions promptly. The house is so beautiful and has all the amenities you need; one of the two community pools is just across the street. Emerald Shores is a wonderful community , everybody is very friendly. The beach is a short walk away and has its own private access. Its near shopping malls, outlets and fine dining. We had a great time in Destin and I highly recommend this property and I hope we can go back very soon.
09/21/2020
Beautiful home will return!
This place is gorgeous and a simple walk to the beach. There are so many restaurant options around you and things to do! It has been a beautiful experience I will never forget and I am definitely going back. The host was wonderful and provided excellent communication
10/15/2020
Hidden Gem by the Sea is a beautiful full house in a super quiet and friendly neighborhood

Maria's home Hidden Gem by the Sea is a beautiful full house in a super quiet and friendly neighborhood. The house is near the larger of two pools in the community. The smaller pool was heated when we visited but no one was really using it. It was easy to socially distance. We enjoyed cool evenings on the back patio back at the house. The kitchen has everything you have at home. I used the blender to make bread crumbs, chimichurri, and frozen drinks in the blender. The furnishings are really nice compared to some beach condos I've rented. We loved the giant shells over the enormous mirror that adds light in the living room. I think the beach is more than a 3 minute walk, but Maria provided a wagon when we visited. It was perfect for our 70qt cooler and and beach bag for 3 adults. There are a couple of restaurants by the private beach entrance.
03/05/2021
The house is beautiful. Location is perfect (short walk to the beach). Cleanness 10/10

The house is beautiful. Location is perfect (short walk to the beach). Cleanness 10/10. Maria and her husband are very caring people and respond quickly to questions/issues. My only suggestion is to provide coffee for guests. Would be really nice when you wake up to be able to make a fresh coffee instead of driving to Starbucks to get one. Overall, we had wonderful time. We'll be back and will recommend her place to friends. Thank you for your hospitality.
03/01/2021
Hidden Gem is a gem Clean, cute
The
community is friendly but also private; the houses are tucked in close together but situated where you aren't looking into your neighbor's windows. We loved being a short walk away from several delicious seafood restraints and starting every morning walking the path that runs parallel to the beach to get our morning coffee. The beach is stunning and we played there every day. We just left and miss it, and Hidden Gem, already. We can't wait to return!
03/08/2021
This place is perfect

I had a 1 year old with me and this place was perfect. 10 min walk to the beach and 1 minute to the pool. Great decorations and furnishings. Would recommend!!
04/01/2021
Spacious clean and well organized

Spacious, clean and well organized. The house was stay ready with all of the condiments. Definitely bring extra cover if you have more than two guests. Also the televisions in the rooms are very small. The house has a nice grill and outdoor lounge area. Also, the walk to the beach is not too far.
03/25/2021
This place was perfect

I had a 1 year old with me and this place was perfect. 10 min walk to the beach and 1 minute to the pool. Great decorations and furnishings. Would recommend!!
04/01/2021
Exceeded expectations with communication and hospitality

Maria was the most amazing host to us! She exceeded my expectations with communication and hospitality! I cannot imagine a better place to stay for our honeymoon and we most certainly hope to return in the future!
04/19/2021
Great host and the home was beautiful

Great host and the home was beautiful! It was tucked away in a cute neighborhood with a short walk to the beach and great restaurants nearby. I would definitely recommend to stay here
05/10/2021
Great location and great area

Great location and great area. The house is in great conditions and has all you need for your stay (towels, linens, beach chairs, cooler, etc.). The host is very responsive and nice.
05/22/2021
Beautiful, clean, spacious house. We loved our stay.

Beautiful, clean, spacious house. We loved our stay. Easy 10 min walk to the beach, pool is right across the street from the house. Lots of room for our fam of 4 and all our stuff. The house is super private, we never heard noise from the neighbors and even tho it's close to other houses, we felt like we were tucked away. The pool was never too crowded and was always clean. We only tried the large pool since it's right there.
Tip for the beach: you can rent chairs and umbrellas all day but it's expensive (for us) and if you don't rent you have to sit BEHIND the high back chairs and umbrellas which are mostly empty bc they are set up whether the renters show up or not. You can't see the water edge (where my kids want to be). Go after 5pm when the chairs are put away and you have a beautiful practically empty gorgeous beach with a perfect view of the ocean.
06/19/2021
Everything in the add was accurate and a very nice space

Maria was a fantastic host. Everything in the add was accurate and a very nice space. Communication was great, very easy check in and check out procedures. Will book again for the next trip. Thank you!

06/26/2021
House was cozy and quiet, and a perfect retreat

House was cozy and quiet, and a perfect retreat after enjoying the beach. Highly recommend this place!

07/10/2021
The Hidden Gem is exactly what we hoped for


The Hidden Gem is exactly what we hoped for! Location was perfect- in a well maintained and family oriented neighborhood. Just a short stroll to the beach! The home itself was cozy, comfortable and a great place to relax and unwind after days spent at the pool or beach.
Maria is a wonderful host, and I enjoyed getting to know her prior to our trip.
We rented a golf cart for the week and had a blast cruising around day and night and getting to and from places close by. All in all, absolutely wonderful stay at the Hidden Gem and would definitely recommend to others! We hope to be back in the future. Thank you Maria!
[Nicole]
08/07/2021
Our stay at the Hidden Gem was very nice

Our stay here at the Hidden Gem was very nice. The house is super cute and tucked away in a quiet lot. The neighborhood is so cute and quiet. Pools seemed very kept up. The walk to the beach wasn't bad at all, only about 5 mins away if that. The beach access was super nice. The house has a wagon, about 5 beach chairs, an umbrella, and floaties to use for your convenience. I noticed a pack-n-play in the closet which is very nice for guests with little ones. The host is available for any questions that you may have once you've arrived. Thanks for the awesome stay!
08/19/2021
Fantastic accommodation and a quick walk to an excellent beach

Hidden Gem is true to its name. Fantastic accommodation and a quick walk to an excellent beach. Had a wonderful vacation and will be back.
09/07/2021
Awesome House
This house is awesome and so well decorated. The house is very relaxing and made for such a pleasant trip. The beach is only two block away and you are able to have access to a private beach. There were several really nice restaurants on the beach within walking distances from the house. We were very impressed with the house and they have everything you need. There are TVs in the bedrooms and a very nice gas grill. We will be back soon
10/19/2021
Clean and comfortable

House is very clean and comfortable. The neighborhood was friendly and quiet. It had all of the amenities we needed for a wonderful beach vacation (fully stocked kitchen, washing machine & dryer, Pack n Play for our baby, grill, beach chairs & umbrella, and wagon to get to the beach. We went to the beach twice a day because it was so fun! For restaurants, we recommend Lost Pizza and Pascalli's! Would love to plan another trip back here.
09/11/2021
Amenities
Bedroom Setup
1 Queen Bed
1 King Bed
1 Sofa Bed
Dining Room
Dining Table
Eat in Counter
Formal Dining Room
Barbecue - Grills
Private Gas Grill
Gas Grill
Bathroom
Bathtub
Linens & Towels
Private Bathroom
Shower/Tub Combo
Walk in Shower
Whirlpool/Jacuzzi Bathtub
Bedroom Extras
Private Bathroom
Walk-in Closet
Cooling Comfort
Ceiling Fans
Central Air Conditioning
Disability Access Features
Ground Floor Unit
Single Level - No Stairs
Walk-in Shower
Handicap Accessible
Entertainment
Big Screen TV
Cable TV
DVD Player
Fishing
Golf
Jet Ski
Kayaking
Minature Golf
Snorkling
Swimming
Television
TV/DVD
General
Linens Included
No Smoking
Pets On Request
Pet Friendly
Vacuum
Home
Online Booking
Home Office
High Speed Internet Access
Wireless Internet Access
Kitchen
Washer/Dryer
Blender
Breakfast Bar
Can Opener
Coffee Maker
Dishes
Toaster
Utensils
Crock Pot
Keurig
Microwave
Mixer
Oven
Pots and Pans
Refrigerator
Stove
Dishwasher
Disposal
Fully Equipped Kitchen
Garbage Compactor
Ice Maker
Ironing Board
Outside Living
BBQ Grill
Community Pool
Outside Shower
Patio
Porch
Private Parking
Restaurants
Beach Chairs Provided
Beach Service Provided
Parking
Driveway
Parking for 2 cars
Boating
Boat Rental Available
Marina
Pier
Amenities
Air conditioning
Dryer
Internet
Washer
Kitchen
Dining coffee maker
Dining dishwasher
Dining ice maker
Dining kitchen
Dining microwave
Dining refrigerator
Activities
Adventure
Boating
Deep Sea Fishing
Photography
Shopping
Snorkeling
Theme Park
Bedroom Details
Bedroom 2 TV
King
Master TV
Queen
Entertainment
DVD player
Hi Def Television
Internet/Computer
High Speed Internet Access
Wireless Internet
Kitchen
Blender
Coffee Maker
Dishwasher
Fully Equipped Kitchen
Garbage Disposal
Microwave
Oven
Refrigerator
Stove Top Burner
Toaster
Outdoor Features
Community Basketball Court
Gas Grill
Outdoor Shower
Property
Air conditioning
Dryer
Gated Community
Iron/Ironing Board
Linens
Washer
Washer/Dryer
Yard
Property Features
Cable TV
DVD/ Blu-ray
Pet-Friendly
Tram Service
Wheelchair Accessible
WiFi/ Internet
Purchasable Amenities
Golf Cart: 6 Seater (Weekly: S & L Tax Included)
Room Features
Bathtub
Pull Out Couch/Futon
Sports
Cycling
Diving
Fishing
Golf
Para-gliding
Roller Blading
Wind-Surfing
Sailing
Surfing
Swimming
Tennis
Walking
Water Skiing
Suitability
Child Friendly
Elderly Friendly
Groups
Minimum Age for Renters
No Pets
No Smoking
Singles
Wedding
Theme
Beach
Family
Festivals
Food/Wine
Romantic
Sightseeing
Spa
Transportation
Designated Parking
Parking
Property Amenities
Flat-Screen TV In Property
Free WIFI
Grill/ BBQ at the Property
Laundry Room in Unit
Pet Friendly
Xplorie
Baytowne Adventure Zone
Big Kahuna's Water Park
Charter Fishing
Dolphin Cruise
Golf
Paddle Boarding
Snorkeling
Auto-Responder Tier
Alerio
Destin Tier 1
Destin Tier 2
Miramar Beach Tier 1
Parking
2 Parking Spaces Available
Property Amenities
Community Pool
Internet
Outdoor Grill