Selah by the Sea - Emerald Shores
Selah By The Sea - Walk to the beach Emerald Shores Community
Emerald Shores Vacation Rental House in Destin, FL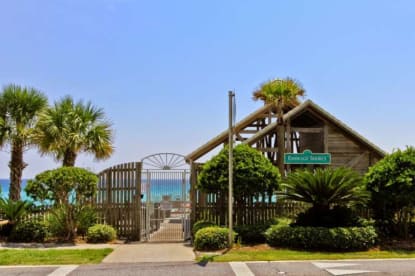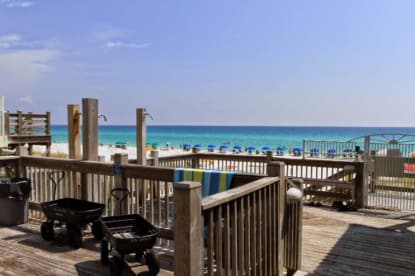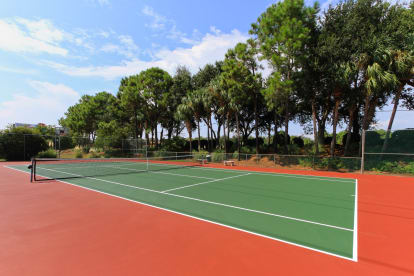 ---

My ECBYO listing
Description
"SELAH BY THE SEA", formerly known as "Return To The Sea" is a cozy beach villa in gated Emerald Shores community of upscale caribbean styled homes in a lush tropical setting. A coded private beach pavillion for owners and guests with cabana, restrooms, fresh water showers, beach chairs/umbrella service. This Home can be reserved with our other property "HIDDEN GEM BY THE SEA" if you need space for additional family members or friends.  Both homes are within feet of eachother.

Home is only a 3-4 minute stroll to the soft sugar white sand beach and crystal clear water or hop on the private free tram/shuttle! Large wagon for beach gear transporting available. Additional Emerald Shores amenities include two heated pools, a tennis court, shuffle board and basketball.

Armband Policy is in effect from 3/14/20 - 10/17/20  20.00 per home to be paid cash only at the private beach pavilion.

Vacationing here is an annual, sometimes two to three times a year event for many families and friends! You should come too! Once you come, you'll want to come again and again! Some people make this their home away from home after just one visit! Come see why! 

We all need a chance to pause and reflect on the beauty all around us. To see life more simply and live life more richly. This is Selah Life By The Sea.

We appreciate you taking the time to view our home. Please call us at 713-469-2100 or e-mail if you have questions. If you choose to stay with us, we are confident you will love our home and have a great time here at the beach! 

PS:  To read more reviews on both our properties and sign up for our newsletter please go to our website www.selahshores.com.
Availability
Rates
From/To
Nightly
Weekend
Weekly
Monthly
Min Nights
01/01/2021
03/13/2021
--
--
--
$2,100
28
03/29/2021
05/21/2021
$199
--
$1,390
--
4
05/22/2021
05/28/2021
$420
--
$2,495
--
7
05/29/2021
07/03/2021
--
--
$2,295
--
7
07/03/2021
07/10/2021
--
--
$2,495
--
7
07/10/2021
08/14/2021
--
--
$2,295
--
7
08/14/2021
09/11/2021
--
--
$1,895
--
09/11/2021
09/18/2021
$225
--
$1,390
--
10/09/2021
10/16/2021
$225
--
$1,450
--
09/18/2021
10/09/2021
$199
--
$1,260
--
10/16/2021
11/06/2021
$199
--
$1,260
--
11/06/2021
11/13/2021
$225
--
$1,450
--
11/13/2021
11/20/2021
$199
--
$1,260
--
11/27/2021
12/18/2021
$199
--
$1,260
--
11/20/2021
11/27/2021
$225
--
$1,450
--
12/18/2021
01/01/2022
$225
--
$1,450
--
Reviews
Great Home
Selah by the Sea was a very nice home. It was roomy, clean, comfortable and nicely decorated. Beds were comfy and patios and porch nice. Great beach area with small bar and good food available right at the beach. Good cooler and 2 wagons also beach chairs available at home. Pools were very nice. Owner was very easy to work with and very nice. We would definitely stay here again.
07/01/2016
Everything Is Wonderful !!
From the moment we made contact to become renters, Maria was so lovely and gracious. She got back to us immediately and allowed us to see her beautiful cottage in the fall. We knew from the pictures how refreshing and comfortable SELAH by the Sea was, but when we got here and started to unwind, it felt like our home away from home. The cottage is so well equipped. We want for. Noth. I love the back, fully fenced courtyard as well as the screened in porches on cooler days. We will most certainly be back to this great vacation spot!!! It will not disappoint you if you are thinking about SELAH for your Destin vacation!! Thank you so much for having us as your guests, Maria. We love it here
02/01/2016
Excellent Beach House
It has an excellent location, it feels cozy and the house has everything you could possibly need. Highly recommended.
09/10/2016
Perfect Location


Selah by the Sea is located in Emerald Shores development and might be the perfect location. Walkable to the beach, a great mix of folks of all ages, with a secluded feel that belies the activity of the are. Two nice pools but an easy walk to the beach. Drivable to any main activity. The house itself has the perfect layout for a variety of family styles. A master bedroom and bath in the main part of the house with s screen porch connecting a suite of two other bedrooms and a bath--perfect for either friends or extended family. There are lots of extras (cooker, wagon, chairs, etc) that make the packing load much lighter. An easy place to keep organized and was very clean. We will definitely consider for a return trip!!
04/01/2017
The house was beautiful

Maria is such a great host! The house was so beautiful and it was everything that the pictures showed and more! Maria is such a beautiful person and it felt like I knew her even though we'd never met. We will definitely come back to emerald shores' Selah by the Sea!
05/03/2017
Perfect for a beach vacation!

Maria's house looks exactly how it is presented. A beautiful home with a great style, perfect for a beach vacation. We had 6 adults and 2 children and it was perfect for all our needs. Separation when needed and a large patio and living room to fit us all. The neighborhood was family friendly, everyone around was so nice, but i think it's impossible to be mean in a beautiful place like Destin! Our neighborhood had two pools that were perfect for when the beach had big waves. A huge blessing was that we could walk to Dollar General to get pretty much anything. We cooked a lot of our own food in the house which saved us a lot of money, and the house had everything we needed! The walk to the beach was very easy, and the house supplied us with a wagon to get chairs and toys to and from the beach. All in all, we had an amazing trip and I can't thank Maria enough for being a wonderful host!
05/20/2017
House was even better than expected


House was even better than expected! Checkin was extremely simple and Maria was very easy to communicate with. Gated neighborhood with a 7 minute walk to private section of the beach. Layout of the house is great and allows for extra privacy. Fenced in backyard was ideal for having a pet. There is also a large screened in area for the occasional thunderstorm viewing! Would highly recommend and will be back!
08/29/2017
Heaven by the Sea

We loved everything about this place! From the "at-home" feeling you get when you walk inside this glorious place to the inspirational signs throughout the space. All the rooms where private and had plenty of space for my family and my wedding party. There was a nice company renting beach furniture when we arrived on the beach. There's plenty of beach supplies at the house but we didn't realize that until we were looking for a vaccum on the day of check out. However, this place does not disappoint! You will adore staying here and you will not be disappointed. We intend on returning at least once a year! Maria is also extremely helpful and she checks in on you after you get settled. Loved that!
10/12/2017
Location is fantastic!

Our family enjoyed our stay very much. The location was fantastic as it was a more relaxed and family friendly vibe than other places in the general area of Destin we explored. The home was decorated lovely and very clean. Next time, we wouldn't pack as much as just about everything you would need for the beach was available (cooler, wagon, chairs, umbrella, boogie boards, toys, etc). My family's Indiana skin was especially thankful for the available aloe. We spent most of our time on the beach as it was a short walk and absolutely beautiful. I would recommend walking there at sunset to watch the stingrays surf the waves. We also saw dolphins while swimming during the day. Maria was super friendly and made us feel welcome. I would recommend her place and we hope to return sooner than later!
03/31/2018
We enjoyed our stay at Selah by the Sea


We enjoyed our stay at Selah by the Sea. It was clean with a lot of helpful items at the house to lighten our packing load. The screened in patio was a great place for the kids to play in the evenings while the adults visited in the living room. It was in a great location, not too far of a walk to the beach and super close to the pools. We would definitely return to this house in the future.


04/05/2018
Such a beautiful Home

Such a beautiful home! We had a wonderful experience and will definitely return. Thank you :)
04/12/2018
Absolutely Gorgeous

Maria is an excellent host. She was very quick to respond to every single message I sent her. Selah by the Sea is absolutely gorgeous, cozy, perfect home away from home. It is a short walk to the beach. The community was quiet and perfect. We loved our 7 day stay. "
07/07/2018
This place was super cute & conveniently close to the beach


This place was super cute & conveniently close to the beach.. about a 5 minute walk! Access to a wagon ice chest chairs and umbrellas was very nice !! Would def recommend! Only 15-20mins to awesome restaurants & bars! Good people own this place, you wont be disappointed!
08/23/2018
Super Cute and convenient to pool/beach

This house/neighborhood is super cute and convenient to the pool/beach! Would highly recommend staying here :)
08/26/2018
This place is truly great!

This place is truly great!! The house has an awesome layout, very clean, 10 min walk to the beach, and lots of useful items such as a wagon and chairs for the beach. I felt extremely safe and am so glad I found this place. Thank you so much Maria for the terrific place and great hospitality!!
09/30/2018
The house is absolutely beautiful

The house is absolutely beautiful. It is very spacious, clean, modern and very functional. The home had a TV in every room, the kitchen had every item you can possible need to make a meal. She even supplies board games, cards and pamphlets to help you know what the area has to offer. I was very happy and pleased to stay in this beach home. I highly recommend staying here. You will not be disappointed.
12/03/2018
Selah by the Sea was amazing!
Our experience at Selah By the Sea was amazing. The home was clean and comfortable. Quiet and friendly neighborhood with activities nearby. We really enjoyed the 5 minute walk to the neighborhood's private beach. Maria was also a great host, she communicated well throughout the process helping to create a great experience for check in and check out. We will definitely be visiting again!
12/22/2018
Memories
Maria and Billy are excellent hosts. Maria was very quick to respond to every single message we sent her. Their home " Selah by the Sea " is absolutely perfect ...a home away from home. The kitchen is well equipped with everything, even a crockpot. The tv is Toms favorite. This is our second year staying in this wonderful home. It is a short walk to the beach. Thankful for the beach pavilion. We really like that Dollar General is soooo close for any item we might need. The community is quiet and perfect. All who stay here will be blessed by a wonderful home in a wonderful gated community.
01/26/2019
Best Beach Vacay Ever!
Our host Maria was excellent at communicating-as this was our FIRST experience renting a home for at our vacation spot! She made the process easy. The home was clean and beautifully decorated. The common areas had plenty of space for all 9 of us to lounge, eat and enjoy a movie together. And yet we had the option to have quiet time in the bedroom areas too! This home came well equipped for families! We had 5 kids in our travel party and there were soo many sand playing toys and boogie boards that no one fought. The wagon provided was wonderful-as the walk to the beach carrying all our gear would have been a chore. That wagon allowed the kids to take whatever they wanted PLUS the adults' chairs. The home is located near a couple malls and plenty of eats, both fine and fast food. Making dinner w kids EASY. The private beach was beautiful! The beach pavilion provided cold drinks and we had access to CLEAN restrooms. There was also a fresh water wash out station too! Our two families (total of 9 people) had a stress free stay. We were truly sad to leave and hope to return.
07/20/2019
Luxury Living
We just returned from a 10 day trip and all I have to say is everything was perfect. The house is gorgeous, incredibly clean and very well appointed. Maria was such a great host and we will definitly be back. It is a quick walk to the beach and close to restaurants. We could not have loved the location any more. The private beach was AMAZING!!! I have never seen a more beautiful beach and we have been all over the Caribbean. It's our new favorite spot! Thanks again, Maria for hosting! It truly was the BEST family vacation.
08/01/2020
Amenities
Bedroom Setup
1 Queen Bed
1 King Bed
2 Twin Beds
1 Sofa Bed
Dining Room
Dining Table
Eat in Counter
Formal Dining Room
Barbecue - Grills
Private Gas Grill
Gas Grill
Bathroom
Bathtub
Linens & Towels
Private Bathroom
Walk in Shower
Bedroom Extras
Private Bathroom
Walk-in Closet
Cooling Comfort
Ceiling Fans
Central Air Conditioning
Disability Access Features
Ground Floor Unit
Single Level - No Stairs
Walk-in Shower
Handicap Accessible
Entertainment
Big Screen TV
Boating
Cable TV
DVD Player
Golf
Kayaking
Minature Golf
Scuba
Snorkling
Swimming
Television
TV/DVD
Games
Board Games
Reading Library
General
Linens Included
No Smoking
Pets On Request
Pet Friendly
Vacuum
Online Booking
Home Office
High Speed Internet Access
Wireless Internet Access
Kitchen
Washer/Dryer
Blender
Breakfast Bar
Can Opener
Coffee Maker
Dishes
Refrigerator
Stove
Toaster
Utensils
Crock Pot
Ironing Board
Kitchenette
Microwave
Mixer
Oven
Pots and Pans
Dishwasher
Disposal
Fully Equipped Kitchen
Garbage Compactor
Gourmet Kitchen
Ice Maker
Outside Living
BBQ Grill
Community Pool
Patio
Porch
Porch Furniture
Private Parking
Restaurants
Parking
Driveway
Parking for 2 cars
Parking for 3 cars
Amenities
Air conditioning
Dryer
Internet
Washer
Kitchen
Dining coffee maker
Dining dishwasher
Dining ice maker
Dining kitchen
Dining microwave
Dining refrigerator
Outdoor
Deck patio uncovered
Grill
Activities
Adventure
Boating
Theme Park
Deep Sea Fishing
Luxury
Photography
Scuba Diving
Shopping
Snorkeling
Internet/Computer
High Speed Internet Access
Wireless Internet
Kitchen
Blender
Coffee Maker
Cooking Utensils Provided
Dishwasher
Freezer
Fully Equipped Kitchen
Garbage Disposal
Microwave
Oven
Refrigerator
Toaster
Property
Air conditioning
Dryer
Gated Community
Iron/Ironing Board
Linens
Porch Furniture
Screened Porch
Washer/Dryer
Yard
Property Features
Cable TV
DVD/ Blu-ray
Pet-Friendly
Tram Service
Wheelchair Accessible
WiFi/ Internet
Room Features
Bathtub
Pull Out Couch/Futon
Sports
Cycling
Diving
Fishing
Golf
Para-gliding
Roller Blading
Wind-Surfing
Sailing
Surfing
Swimming
Tennis
Walking
Water Skiing
Suitability
Child Friendly
Elderly Friendly
Groups
Minimum Age for Renters
No Pets
No Smoking
Singles
Wedding
Theme
Beach
Family
Festivals
Food/Wine
Romantic
Sightseeing
Spa
Community Amenities
Community Grill Area
Community Pool
Community Tennis Courts
Property Amenities
Flat-Screen TV In Property
Free WIFI
Grill/ BBQ at the Property
Laundry Room in Unit
Pet Friendly
Xplorie
Baytowne Adventure Zone
Big Kahuna's Water Park
Dolphin Cruise
Golf
Paddle Boarding
Snorkeling
Auto-Responder Tier
Destin Tier 1
Destin Tier 2
Miramar Beach Tier 1
Parking
2 Parking Spaces Available