Secret Paradise, 5 bedroom, Emerald Shores
SEPT 2-9 STILL AVAILABLE! Many upgrades! UVC air purifiers added! 3 KING beds! Walk to the beach!
Emerald Shores Vacation Rental House in Destin, FL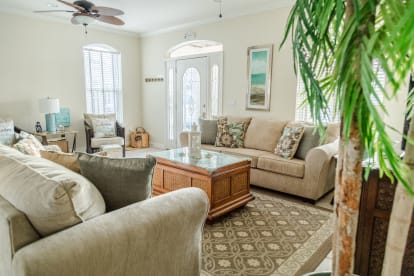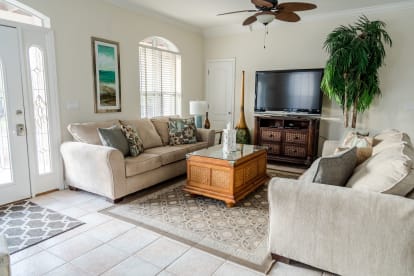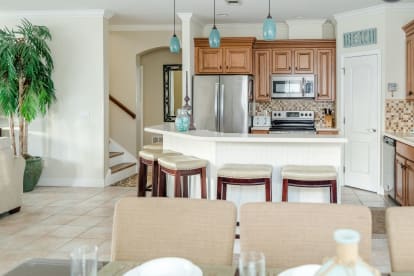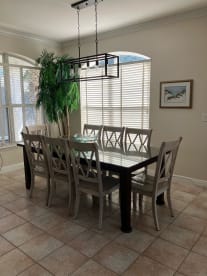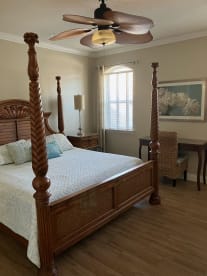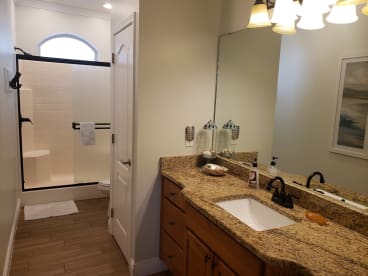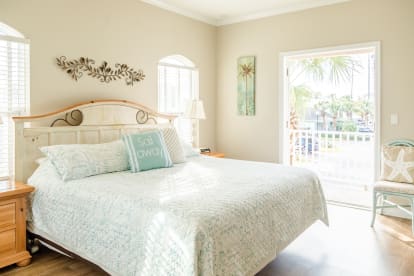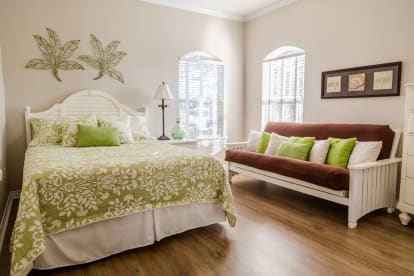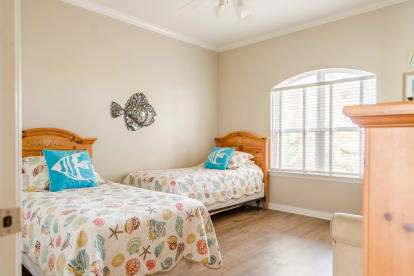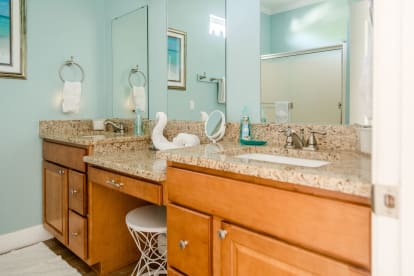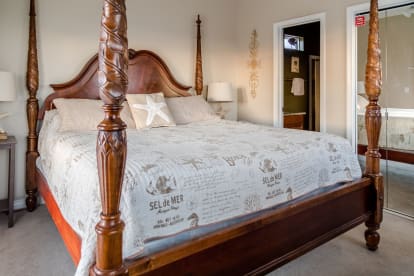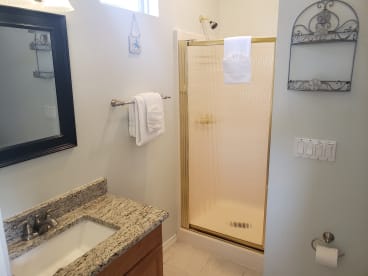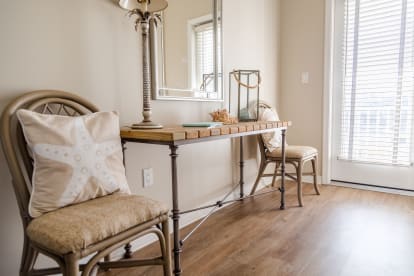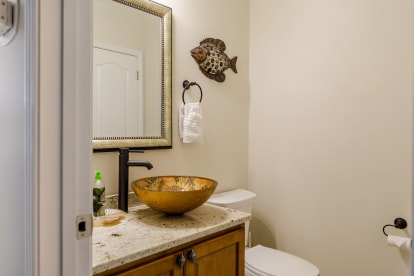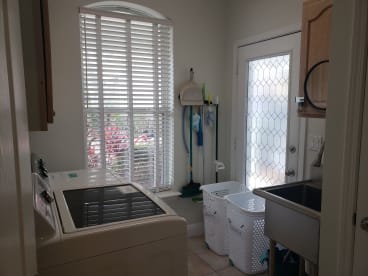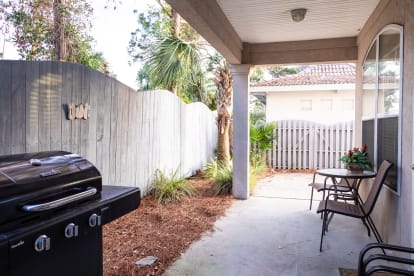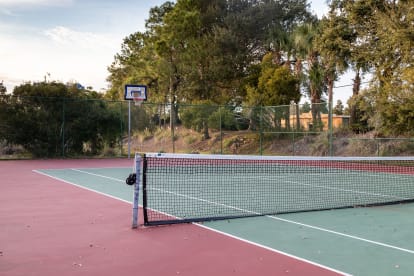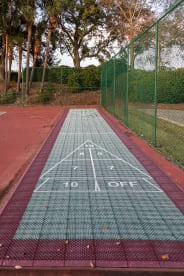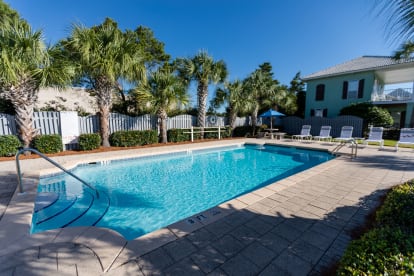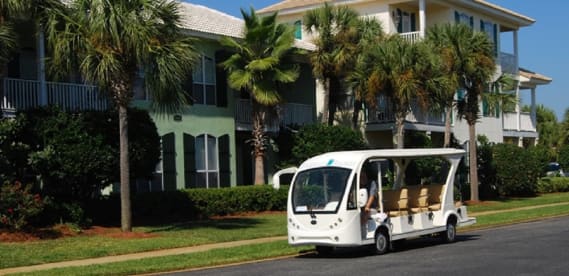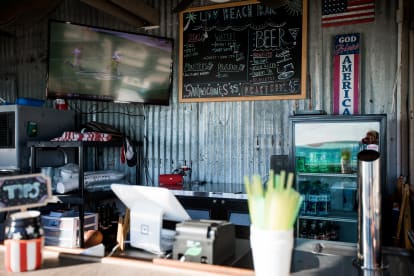 ---

My ECBYO listing
Description
"Secret Paradise" is an ugraded, beautifully decorated 5 bedroom, 3 full and one half bath home located in the upscale gated community of Emerald Shores. This three story beach home is located only 1500 feet from the spectacular white sand and clear breathtaking water of Destin. You can walk to the beach with an easily in 5 minutes!  After visiting you will know why we named our new home "Secret Paradise"

Our home is located on a quiet cul-de-sac between the two private neighborhood pools; a short two minute walk takes you to either pool (heated), tennis court, basketball or shuffle board. Emerald Shores is the only neighborhood in the Destin area with its own private beach pavilion on the ocean with bathrooms, shower, picnic tables, sun deck, private deeded beach owned by the subdivision. During summer months Emerald Shores offers a free shuttle service to take you to the beach or you can enjoy the short 5 minute walk through the tropical neighborhood to get to the beach using our wagon to bring all your toys and chairs. Beach service (umbrella and chair rental) is available as well.

"Secret Paradise" has been upgraded and professionally decorated. After entering through the leaded glass front doorway you will be welcomed with a large open floor plan to enjoy. The spacious living room has plenty of comfortable seating with 2 sofas and loveseat. Upgraded furnishings including a 55" SMART HDTV, dining area with solid wood table for eight and fully equipped gourmet kitchen with stainless steel appliances and maple cabinetry with corian counters with 5 bar stools for countertop dining.  Added in 2021 a 150 can capacity beverage refrigerator. Kitchen also has a door to the back covered patio with a propane grill to extend outside dining .  We have everything you need to dine in with a fully stocked kitchen. There are NO steps on the first floor and home has three entry ways for easy access.

The spacious first floor master bedroom suite boasts a KING size carved wood poster bed, 52 inch TV with roku, and DVD player. Attached is a renovated full bath with oversized shower. The upgrades include wood vanity, granite counters, new sink, all new faucets, new shower doors and wood look porcelian tile flooring throughtout the bathroom on-suite and Master bedroom. The first floor also has a full laundry room with stainless steel deep sink, iron, ironing board, drying rack, and door to front porch. We also include complimentary laundry detergent. A half bath with a designer vessel sink, granite and wood vanity is conveniently located on the first floor.

Extra wide stairwell with vinyl plank flooring leads to the second floor with three addition bedrooms, porch access, large renovated full bath with double sinks, vanity, granite, tile flooring, and shower doors to the tub with shower combination. One room features KING size bedroom suit, 42 inch screen smart TV, DVD player, NEW French doors to large covered porch, large closet. Additional bedroom has TWO TWIN beds and a QUEEN sleeper sofa (premium sleeper mattrice) to host 4 people. Also a bedroom that sleeps four with QUEEN bed, deluxe FULL futon, large closet, and TV and DVD player finishes this floor. All bedrooms are very large with plenty of room to enjoy with private closets and dressers to unpack and enjoy your Secret Paradise stay.

Venture up to the third floor for a private tropical suite. KING size wood poster bed awaits with new French doors to a private balcony that is great for relaxing and watching the sunset or listening to the gulf breezes. This room features full upgraded bath with new vanity and granite, shower, closet, 32 inch flat screen TV, DVD player and desk and chair for comfort.

We offer free password protected Wi-Fi,  multiple TVs, DVD players, cable TV. The home has 4 large covered porches for relaxing and enjoying your stay. A propane grill is offered (we provide propane reimbursement if there is a tank exchage needed during your stay) . Also a wagon and rolling cooler are supplied for your use as well. We have a large closet off the back porch with beach toys and floats to share with our guests! The home features two hot water tanks and TWO NEW ac units added 2021. Home is equipt with UVC lights in ducts to purify the air from the HVAC systems. Every bedroom and living room has ceiling fans. All linens and towels are provided(excluding beach towels). Private driveway for parking 3/4 cars.

Destin has so much to offer everyone. If you are looking for more to do than enjoy the beautiful white sandy beaches and emerald waters there is plenty more to do. Destin is a shoppers dream with Destin Commons (upscale outdoor shopping plaza), Silver Sands Outlet mall (largest designer outlet mall in Florida, over 100+ outlet stores), and Baytown wharf (outdoor boutique shopping with restaurants). All located within 2-3 miles of "Secret Paradise". Destin is also known as the "World's luckiest fishing village". The harbor walk village is located in the fishing harbor of Destin. Home to the Fishing Rodeo this harbor has charter boats and multiple activities for the whole family. Dining out in any of the area restaurants is a great way to spend an afternoon. Walking distance are a few beachside dining options. Sitting beachfront overlooking the beautiful views is a great way to enjoy the moment.

Come see for yourself why Destin has become our "Secret Paradise"! 
Availability
Rates
From/To
Nightly
Weekend
Weekly
Monthly
Min Nights
05/18/2024
05/24/2024
--
--
$3,195
--
7
08/19/2023
01/05/2024
--
--
$2,095
--
1
03/02/2024
05/03/2024
--
--
$2,495
--
7
05/04/2024
05/17/2024
--
--
$2,795
--
7
05/25/2024
06/28/2024
--
--
$4,295
--
7
06/29/2024
07/05/2024
--
--
$4,495
--
7
07/06/2024
08/02/2024
--
--
$4,295
--
7
08/03/2024
08/23/2024
--
--
$3,195
--
7
08/24/2024
02/28/2025
--
--
$2,095
--
7
Admin and cleaning fee:
$350.00
require 50% down at time of booking and the final balance is due 60 days before your arrival
weekly vacation home with Saturday to Saturday check in and out.
We do not rent to singles under 25 OR chaperoned groups
Florida tax will be added to the week at 12%
NO smoking home 
NO Pet property so you can be assured we are clean and alergy free
Adminitrative fee covers cleaning, credit card fees and reservation fees
​SNOWBIRD Special rate $2500 (4 week stay) January and February months only
Reviews
Great Home To Rent !
Great home. We had a group of 7 adults and 3 children and the house fit everyone nicely. House is beautiful inside and it is just a short walk to the beach. The community's two pools are just a stone's throw away. Linda is very easy to work with. She called within minutes of us expressing interest in her house and answered all of our questions.


07/01/2016
Wonderful Stay !!
Our stay at Secret Paradise could not have been better! It is a beautiful home, tastefully decorated and very comfortable. Our group consisted of eight adults and four grandkids. The house is very spacious and we never felt like we were in each other's way. The location of the house was great as well. It's a short and pleasant walk to the beach and an even shorter walk to the pools. We did utilize the golf cart shuttle that is available to take you to the beach. That was especially nice when taking all of the beach equipment! And, boy, is this place stocked with beach equipment! Toys, umbrellas, chairs... you name it. We brought our own but quickly discovered there was no need to. Linda, the owner is great to work with. She answered all of my questions very quickly and I appreciated that. I have no hesitations in recommending Secret Paradise. If you are looking for a comfortable and well equipped home in a beautiful and relaxing location you have found your place with Secret Paradise. Thanks Linda for a wonderful stay!
06/10/2016
Wonderful Experience & Beautiful Home

My family recently visited Secret Paradise and we were just astonished when we first walked through the door. We arrived with 5 Adults and 3 children (under the age of 5) and the house had something for everyone. First off, I want to start by saying the house was VERY CLEAN! I have rented many homes over the years and I truly believe this one was the best I have ever rented. The house is HUGE and it allows for everyone to have their own space. The kids absolutely loved the closet of beach toys and other beach accessories. We actually brought some toys along with us and didn't even take them out of the car when we saw how many toys the house had. The house is approx. 5-8 minute walk to the beach (for us it took a little longer because of the kids.) Once you enter the private beach you feel like you are in a tropical paradise. Pictures just don't do Destin justice. The beach was extremely clean with the whitest sand I have ever seen and the water was just delightful. I have never seen such clear, blue, beautiful water in my life! Something that I think is important to mention about Secret Paradise is the location. You are located off of a main strip that allows access to everything from Outlet shopping to the grocery store to many restaurants but the nice thing about where Secret Paradise is located is that it is on what I called the "quieter side of Destin." It truly allows for a relaxing vacation and doesn't have a tourist feel to it. Lastly and most importantly, I can't even begin to praise the owner of the home enough. Linda was wonderful to work with and ALWAYS answered her phone when I called her. She answered every question I had (and there were a lot) and was extremely accommodating. I can't even begin to thank her enough for making this a wonderful vacation for my family. Thanks for allowing us to stay and thanks for your generosity and hospitality. Your house is gorgeous and we are hoping to come back next year and many years after that!
08/22/2015
Fantastic Vacation!

As soon as you walked in the door of this home you automatically feel that you are on vacation. The home was beautifully decorated. The kitchen is stocked with everything that you can think of from slow cookers, griddles, spices, storage containers, platters, wine glasses etc. The home is located in a beautiful gated community with two pools- one of them was heated. You are a short walk to the beach- which made it easy to go back and forth. The home is also well stocked for items for the beach from sand toys, beach chairs, umbrellas, etc. They are easy to take to the beach with the wagon provided. We rented bikes from bikes r us for $35 a week. Even took the bikes to the winery- right down the road. It was fun riding bikes up and down the board walk. There are lots of sidewalks near by. You are within walking distances to many restaurants- Captain Dave's, Pompano Joe's, Kenny D's to name a few. I would highly recommend this house and working with the owner Linda. She is responsive to all your questions.
03/26/2016
Family vacation

The home was very clean and welcoming. Convenient location to the beach and local businesses. Enjoyed the heated pool and close proximity to the beach. Our adult children and grandchildren felt comfortable and safe in this community. I would recommend this home to anyone who was looking for a clean, well stocked, roomy home for a family vacation. The owners were very friendly and available for any questions. We are already planning our next years vacation to the beautiful Destin, FL area. Bernie H.
03/26/2016
Simply Fantastic

We stayed a week recently and everyone was blown away by the place. And the owners were an absolute dream to work with. Never have I had such a relaxing vacation. Great location. We all felt very safe and secure. And that's important when you're somewhere new. Highly recommended.
04/02/2016
Family Fun

Our family of 11, ages 2 to 64, enjoyed a week's stay at Secret Paradise. The house was clean, and we enjoyed its proximity to the community pools and the beach. The community's beach pavilion was definitely a bonus! Initially, we were concerned about the distance to the beach, but it was a quick walk or we could ride the tram which passed by frequently. The community is safe and quiet, and it is close to various attractions and restaurants in Destin. The kitchen was well equipped, and we cooked several evenings and grilled out one evening. We had no problems throughout the week, and Linda was very easy to work with.
05/28/2016
Perfect House

This was the perfect house for our family vacation. We had a group of 7 adults and 4 children, and everyone had plenty of space. The house was very clean and nicely decorated. Linda was amazing to work with. There were a few very minor issues and she responded right away. The neighborhood is so pretty, and it's just a short walk to the beach. The wagon that she provides was a life saver for hauling all of our beach chairs and toys. The kids really loved the pools too. We will definitely be back!
04/01/2017
Delightful
This house was exactly like the photos. It was was very clean, spacious, and perfect for what we were looking for.
11/20/2021
A Must
Secret paradise is a true gem. From beginning to end Linda was lovely to work with. She provided detailed info, answered all my questions timely and all the extra amenities available for use at the house were perfect. And the house is beautiful and comfortable! NO complaints here!
05/15/2021
Amazing
We had 14 and had plenty of room. It's centrally located. The neighborhood is very nice. Short walk to the beach. Linda answered all questions very quickly. House is very nice and well supplied with all essentials.
03/13/2021
Perfect house, perfect location
The house was spacious, clean and had everything we needed for our family of 7. The kitchen had everything you could need and more! The beach wagon and cooler were an added bonus. The beach was an easy 10 minute walk, and having the private pavilion with restrooms and a bar was awesome! Linda responded to all my questions immediately-she was great to work with. I can't say enough great things about this house -we hope to stay here again soon!
07/18/2020
Sunny paradise
How was just as pictured. Owner great to communicate with. Fun area and great walking path.
06/27/2020
Perfect home near the beach
House is beautiful and very well maintained. Had everything we needed and more!! Walk to Beach wasn't bad!! Definitely on the repeat List!!
08/31/2019
Great condo for a large family of 12-14
Nice property with great ammenities. Overall very quiet and feels secluded although it really isn't. Not too along of a walk to the beach and a quick drive
06/29/2019
Spacious House Accomadated Our Large Group
We just returned from Destin. There were 12 people in our group and the house handled us well. The things that stood out to me was the extra refrigerator for drinks which was very useful. The nice washer and dryer that we put to good use. The place was clean and it good shape. What was also very nice was the assortment of chairs and beach toys available to use. That was great. Since it was peak season the property pools were crowed and a little small but we have rented other houses in the past and this is the nicest thus far.
06/18/2022
Amenities
Bedroom Setup
1 Futon
1 Queen Bed
3 King Beds
2 Twin Beds
1 Sofa Bed
Dining Room
Dining Table
Eat in Counter
Eat in Kitchen
Bathroom
Bathtub
Linens & Towels
Private Bathroom
Shower/Tub Combo
Walk in Shower
Hairdryer
Bedroom Extras
Private Bathroom
Walk-in Closet
Alarm Clock
Cooling Comfort
Ceiling Fans
Central Air Conditioning
Disability Access Features
Ground Floor Unit
Walk-in Shower
Entertainment
Big Screen TV
Boating
Cable TV
CD Stereo
DVD Player
Fishing
Golf
Jet Ski
Kayaking
Minature Golf
CD Player
Scuba
Snorkling
Stereo
Swimming
Television
TV/DVD
TV/VCR
DVD/VCR
Smart T.V.
Wedding Friendly
Games
Board Games
Reading Library
General
Linens Included
No Pets
No Smoking
Smoking outside only
Telephone
Voicemail
Vacuum
Home
Pack and Play
High Chairs
Online Booking
Managed By Owner
Home Office
High Speed Internet Access
Wireless Internet Access
Kitchen
Washer/Dryer
Blender
Breakfast Bar
Can Opener
Coffee Maker
Dishes
Dishwasher
Disposal
Fully Equipped Kitchen
Garbage Compactor
Gourmet Kitchen
Ice Maker
Ironing Board
Kitchenette
Microwave
Mixer
Oven
Pots and Pans
Refrigerator
Stove
Toaster
Utensils
Water Filter
Crock Pot
Outside Living
BBQ Grill
Community Pool
Outside Shower
Patio
Porch
Porch Furniture
Private Parking
Balcony
Beach Chairs Provided
Parking
Driveway
Parking for 3 cars
RV Parking Nearby
Boating
Boat Rental Available
Marina
Pier